Product Intelligence
Product Intelligence examples: market analyses, model formulations and better cost-performance.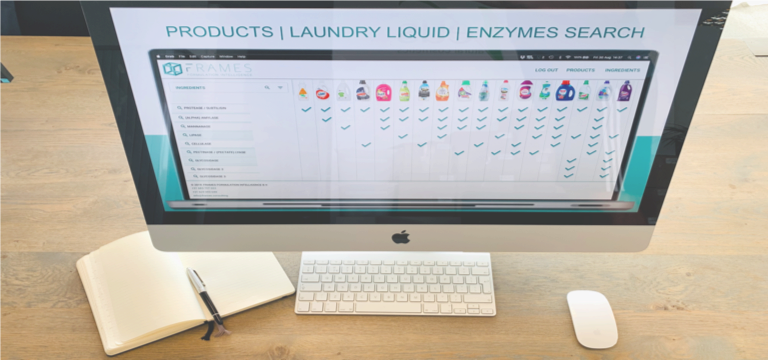 MARKET ANALYSES

Home & Personal Care is referred to as a FMCG (Fast Moving Consumer Goods) business for a reason… On-shelf formulations can change within 6 months, driven by competitor moves, new consumer testing, tender processes or raw material supplier/price fluctuations. These changes over time are monitored in a growing FRAMES Formulation Intelligence database and used for market analyses. FRAMES also supports investor studies for raw materials, including values, volumes and trends.
MODEL FORMULATIONS

The enormous number of – continuously changing – formulations on shelf, makes assignment of representative model formulations less straightforward. Such market representative models are relevant to support raw material development and testing of reference formulations. FRAMES provides model formulations, depending on geography, (brand) positioning and product dosage, with assigned % of all ingredients listed, representative raw materials – suppliers and formulation (on)costs.
Sampling (0,1-10 kg scale) and/or performance testing are provided as experimental services in addition.
BETTER COST-PERFORMANCE

Delivering benchmark performance at lowest cost is an increasingly important driver in the Home & Personal Care industry. In Europe, this performance is defined by objective testing protocols, prescribed by industry organisations like AISE, IKW and others. Consumer organisations test on-shelf products independently and publicly report the test results including on-shelf price. This transparency drives cost-performance optimization by formulation, raw materials and processing. FRAMES supports this with long term experience in various business settings and significant supplier networks.